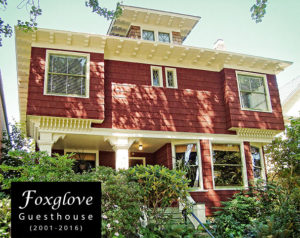 Yes, you've been redirected from FoxgloveGuesthouse.com to the website for the Gaslight Inn. Don't be too startled!
The Foxglove closed its doors December 25, 2016. Its owners, John and Dan, are happily retiring to the San Juan Islands and they've been gracious enough to refer their guests to us, here at the Gaslight Inn.
The Gaslight is the only bed and breakfast to have received landmark status from the city of Seattle. It is a beautifully restored Craftsman house conveniently located only a few blocks from the Foxglove. The interior is beautifully appointed with a collection of Northwest art. The grounds offer a koi pond, gardens and a in-ground, seasonally heated, pool — all at rates similar to those you found at the Foxglove.
We've been around for 35+ years and are highly rated on sites like TripAdvisor and Yelp. Have a look around the Gaslight Inn and let us know if we can help you. If you decide to try us out, we're offering a Foxglove family and friends 20% discount: simply use the promo code "Foxglove" before you choose your dates (click on the ENTER PROMO CODE link, located below the calendar), as you begin to book online — or, mention this discount, if you reserve by phone. This discount is good for one stay with us until the end of 2017!
We hope to offer you a new "home away from home" when you travel to Seattle!
Sincerely,
Bennett and the Gaslight Inn Staff