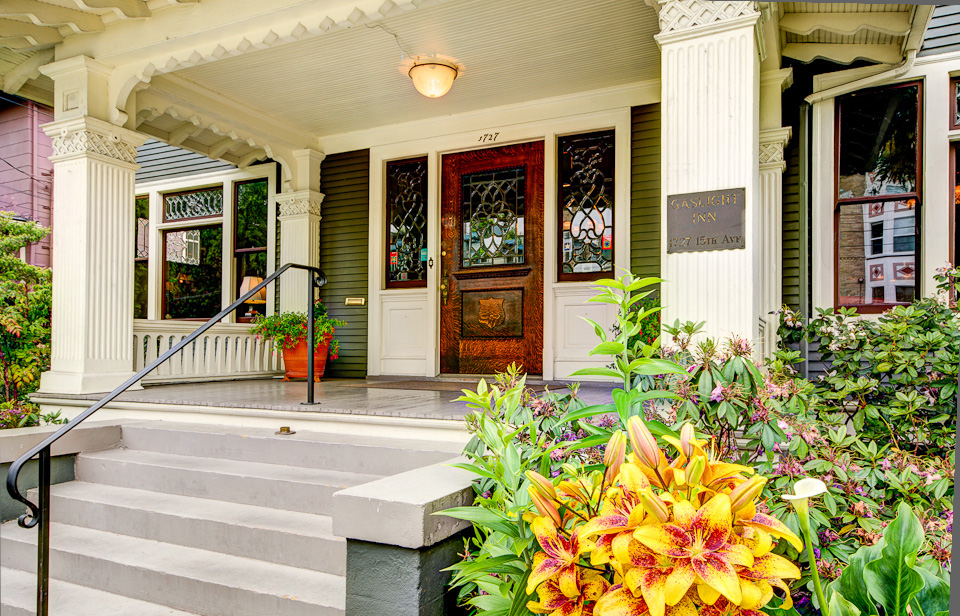 The Gaslight Inn, a bed and breakfast in Seattle, is conveniently located on Capitol Hill which is the city's most exciting neighborhood that also happens to be closest to the center of the city and only about 20 minutes north from the airport. All of Seattle's main attractions including Pike Place Market, are either in walking distance, a short taxi ride or a metro bus ride away.
The Gaslight Inn's interior is appointed in exacting detail (awarded with landmark status by the city of Seattle in October 2015), with strikingly rich, dark colors, oak paneling, and an enormous entryway and staircase. The comfortable and unique guestrooms are furnished with quality double or queen-sized beds, refrigerator and television. Many rooms in our bed and breakfast feature private baths and some also have decks with fabulous views or fireplaces. The living room, with its large oak fireplace, is always an inviting room, as is the library.
Through the late spring and summer, we encourage you to relax and unwind at poolside with a glass of wine after a long, busy day. This private, in-ground, heated pool with several decks and interesting plant arrangements is found at the back of the inn.
The Gaslight has high speed WiFi for all it's guests at no extra cost.
Our aim at the Gaslight Inn is to provide quality bed & breakfast accommodations in a relaxed atmosphere at a sensible rate, and to offer guests, whether they are visiting for pleasure or on business, useful information and assistance when needed.
Our continental breakfast features, coffee, tea, assorted seasonal fruits, yogurt, cheese, hard-boiled eggs, croissants and an additional morning bread. It will get your day in Seattle off to a great start!